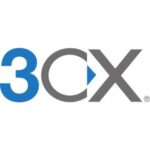 HOSTED OR ON-PREMISE SYSTEM
With 3CX, you'll have a full-featured phone system – call queues, built-in video calls, web conferencing and more. In addition, you can integrate website live chat, Facebook and text messages all in one system. All these features are remote-friendly; your team can use them from anywhere via mobile and browser apps. It's also open-platform and fully compatible with popular IP phones and SIP trunks. 3CX scales with your business and remains cost effective!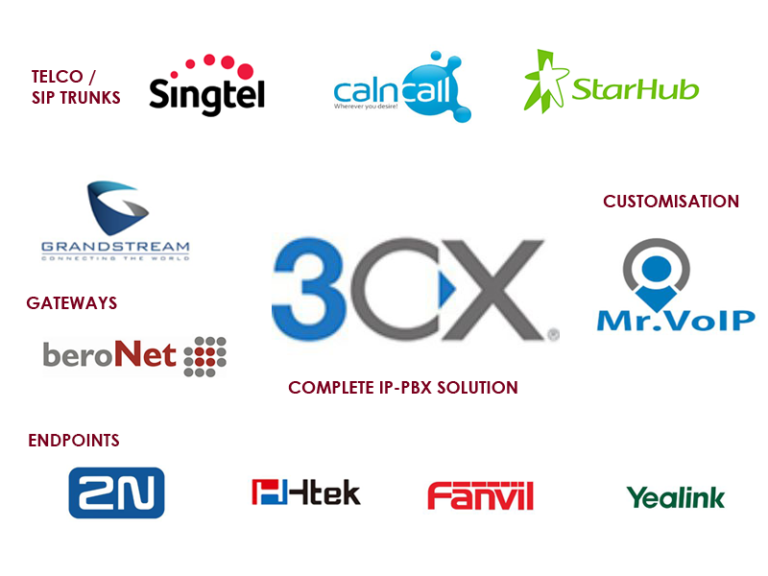 Lockdown-ready your team!
Use office extensions on iOS & Android apps for remote work
Empower your team. Keep in touch via video, chat & phone.
App-free web conferencing. Meet with clients face-to-face.
Live chat on your website. Let visitors get in touch, easily.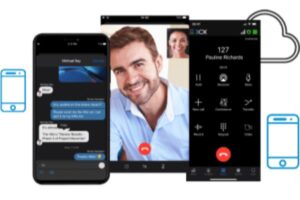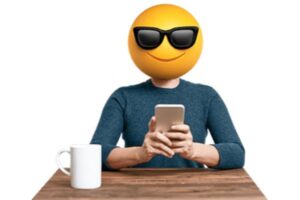 One system. All requests.
Manage calls efficiently. Advanced queue features.
Connect Facebook and SMS. Answer customer messages from 3CX.
Live chat with website visitors. Easily switch to a call or video.
CRM integration. Track all client info synced and up-to-date.
Affordable & easy to manage.
Save up to 80% on monthly PBX fees. Free for unlimited users!
Configure 3CX in minutes using the setup wizard
Plug & play with supported IP phones.
Save thousands on calls with your choice of SIP trunk.
For more information on 3CX software, visit 3CX website
Talk to our Sales for product demonstration or proposal, kindly fill up the Enquiry Form or call us at Tel: (65) 6702 2450 or email: [email protected]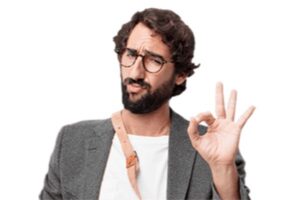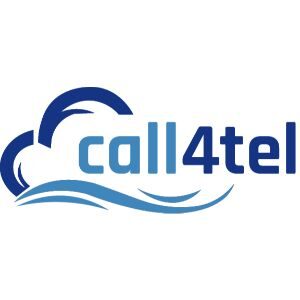 The Appliance is specially designed for 3CX software installation, offer a complete Unified Communications Solution with advanced features Out-of-the-Box. NX-32 Appliance ideal for 8 to 32 concurrent calls with up to 50 users and NX-96 Appliance ideal for 16SC to 64SC with up to 100 users with built-in storage for call recordings features.
Our NX Series Appliances comes with built-in open-platform Debian software for 3CX software, making installation and management of your phone system easier than ever.
Our NX Series Appliances is the most powerful and reliable appliance certified to run 3CX software, integrates with smart features such as WebRTC based enhanced video conference, plug & play Integrated SIP trunk routing connection, state of the art anti-hacking module, battery backup, use as SBC gateway or redundancy units and many more.

Ideal for SOHO/SME Environment
Specification: Desktop Casing, Celeron Processor, 4GB RAM, 128 EMMC, 2x 100BT Ports, HDMI port, Preloaded Debian OS for 3CX
Designed for SME/Call Center Environment
Specification: 1U Rack Mount Casing, Celeron Processor, 4GB RAM, 1TB SATA HDD, 2x Gigabit Ports, HDMI port, Preloaded Debian OS for 3CX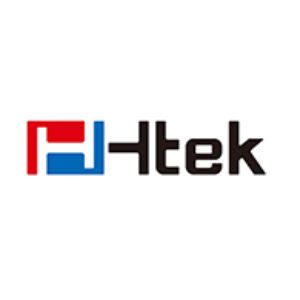 Htek 900 series IP Phones are easy to deploy, easy to configure and easy to use. It's totally Zero-touch for end users. The phones can be easily auto provisioned by all certified phone system or by our own HPT (Htek Provision Tools). The rich features, multi-function and high quality of the phones also mostly satisfy the administrators and end users. Htek with a wide range of IP Phones, from entry level to executive use, 100BT or Gigabit ports, wifi or bluetooth connection.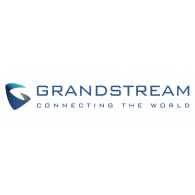 Grandstream GXP series phones are designed for users who are often on the phone and need access to advanced features, line support and usability options. Get more done, handle more calls, and keep in touch with more people.
GXP Series Basic IP Phones
Intuitive IP phones put effective and simple communication access in the hands of users who need it. Our Basic IP Phones offer efficient, no-fuss communication for those who need a simple connection. Ideal for hotel rooms, information booths, and warehouse deployments.
GXP Series Mid Range IP Phones
The GXP1700 series of Mid-Range IP Phones was designed for growing businesses. These stylish phones have mid-range features and capacity that your business can grow with and depend with the competitive price that you need now. The GXP1700 series offers a great addition to any desktop thanks to its sleek, high-end design coupled with a variety of mid-range productivity tools that keep users efficient and productive.
Grandstream 8 ports FXO Gateway
The GXW410x FXO gateway series enables businesses of all sizes to create an easy-to deploy VoIP solution. These FXO gateways offer the ability to seamlessly connect multiple locations and all devices within an office to any hosted or on premise IP PBX network to make
deployments as easy as possible. The GXW410x series includes 4/8 FXO ports, 2 10/100 Mbps ports and supports SIP video through the H.264 codec. 
Grandstream 48 ports Modular FXS Gateway
The GXW4200 high-density FXS gateway series enables businesses of all sizes to create an easy-to-deploy VoIP solution that takes advantage of Gigabit speeds. These FXS gateways offer the ability to seamlessly connect multiple locations and all devices within an office to any hosted or on premise IP PBX network to make deployments as easy as possible.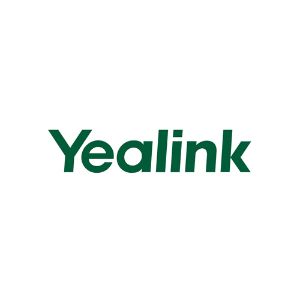 Yealink, one of the industry's leading provider of VoIP phones and IP communication solutions.
Commitment: Yealink is purely committed to designing and manufacturing innovative, high-quality, low-carbon, cost-effective IP phones. This laser focus is what differentiates Yealink from its so-called competitors. Since 2001 Yealink has continued to develop state-of-the-art, hi-tech VOIP communication terminals that include IP video phones, IP voice phones and IP Dect-phones.
Proven Product Quality: Yealink has been shipping VoIP phones to the worldwide market since 2002. Its product quality has been highly appreciated by users & system integrators globally. Yealink has been named as one of the Best VoIP Product Manufacturers multiple times by Global Sources and currently sits as one of the top 5 IP phone manufacturers globally.
R&D Strength: Yealink has a large and rapidly expanding VoIP R&D team. They combine the experience, vision and professional qualifications needed to create a continuous series of innovative designs and breakthroughs that allow Yealink to set new standards in the demanding communication industry. The company is now a recognized international pace-setter in research and product development.
POLY CONFERENCE IP PHONES
Poly: Born in 2019 from Plantronics and Polycom, we believe people achieve incredible things when they work together. The famous words spoken from the moon – "One small step…" – were transmitted on one of our headsets, and following that small step, people continue using our innovations today to make giant leaps in every field imaginable. Poly combine legendary audio expertise with powerful video and screen sharing capabilities to take the friction out of collaboration. From the train to the open office—and every space in between—we make connections more productive. 
Poly Conference IP Phone caters for 4-6 users environment to 10-12 users environment with add-on external microphone, clarify voice quality without compromise.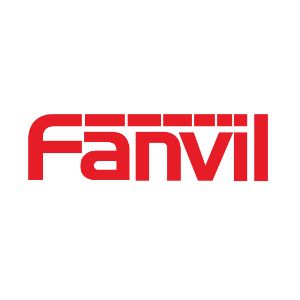 Fanvil: Leading global provider of Unified Communications (UC) endpoint devices and solutions. Fanvil's headquarter office is located Shenzhen plus two additional R&D centers in Beijing, and Suzhou, China. It is the world's first enterprise to launch the desktop communication device with multiple color screens. Coupling our quality production capability is how we deliver local sales, and service to our valued partners and clients worldwide.
Fanvil i20 & i30 series audio door phone integrated with 3CX system seamlessly, for office and warehouse installation.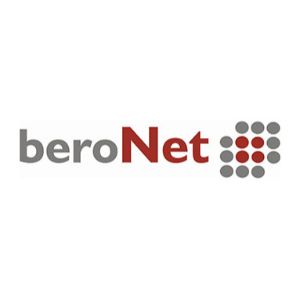 BeroNet 2 PRI Modular VoIP Gateway
The beroNet 2 PRI VoIP Gateway contains 2 PRI Ports. Every port can be operated individually in NT (Network Termination) or TE (Terminal Equipment) mode. By adding a virtual CAPI a Fax Server can also be connected. It's the ideal Gateway to conduct a Soft Migration (Step By Step Migration from classic PBX to VoIP System). The Gateway can be easily updated and remote managed via the beroNet Cloud.
BeroNet 4 FXO Modular VoIP Gateway
The beroNet 4 FXO Gateway is equipped with 4 analog FXO ports (Foreign Exchange Office). With the 4 FXO Ports, a soft PBX can be connected to an ordinary analog telephone provider. The Gateway connects SIP with analog in order to be connected to the public telephone network or to an internal analog connection of the telephone system. It can be easily extended by an additional module.